-HOLLYWOOD VISITS PLYMOUTH-
"Paul Schulz of Plymouth, brings superstars into town" 
Hollywood invaded Plymouth earlier this month for the second time in a couple of weeks.
Plymouth Roc, a Bar and Restaurant on Ann Arbor Road, became a hotel bar for three days as cast and crew members shot scenes for the comedy Cedar Rapids. The Movie, scheduled for a 2011 release, features Anne Heche, John C. Reilly, Ed Helms, Sigourney Weaver, and many others. It's being Directed by Miguel Arteta, who recently completed filming the movie Youth and Revolt" also shot in Michigan.
Steve Stergiou, one of the owners of Plymouth Roc -formerly Boulders - said he was impressed at how efficiently and professionally the crew worked to transform his place into the movies Horizon Bar. "They made a lot of changes. They put walls up, they put different ceilings up, and replaced all the furniture. They even built a custom stage for the karaoke scene they wanted to do," Stergiou said. A partial dropped ceiling of painted tin, Stergiou said, looked so good he decided to keep it and plans to extend it to the entire building. Plymouth Roc was closed for four days for the production, and reopened Dec. 4th. The cast and crew often worked into the wee hours of the morning, he said. Plymouth Roc manager Jordan West and other employees even got bit parts. Stergiou got to meet Heche, Reilly and some of Cedar Rapids other stars. They weren't what he expected, he said. "They were all very nice", I expected a bunch of stuck up people". "They seemed to be just normal people like you and I", he said.
Bringing Cedar Rapids to town was the work of Paul Schulz, a movie and television location scout who lives in Plymouth. Schulz was brought into the production months ago, and was nearing a deal with the owner of a vacant steak house in Plymouth Township when negotiations feel apart over compensation, even as the crew was ready to show up at the restaurants doorstep, he said.
In a jam, without an alternative location, Schulz was having dinner at Plymouth Roc the next evening when a thought struck him. "I suddenly realized that we could transform Boulders into exactly what was needed, even more so than the steak house property", he said. He grabbed his camera and photographed the place for Director Arteta, who liked it, and after some more scouting, a deal was reached.
Schulz, who has more than 15 years of experience in location scouting, said he'll propose Plymouth locations whenever he can. "Plymouth is a great place to film, and with the city being so cooperative with our needs, it makes it a wonderful experience," he said. City Officials, especially City Manager Paul Sincock, have been cooperative with the film industry. Sincock even dropped what he was doing one day to take the Director of Phtotography on a Samuel L. Jackson project, Vengeance: A love story, on a tour of city hall, he said. Filming for that production is expected to take place in Plymouth next year.

Last Month, another Hollywood production, Trust, began filming at locations in Plymouth. The family drama is being directed by David Schwimmer (who played Ross on the sitcom Friends) and stars Clive Owen, Catherine Keener and Noah Emmerich. Trust is scheduled to wrap up its filming in Plymouth this week.
Tony Bruscato, operations Director of Plymouth's Downtown Development Authority, said the appearance of two major film productions in the city within a short time span, probably was matter of luck. "Sometimes you just get lucky, no matter how many times you try to promote the community,"he said. "It's great to have Paul working inside the business too, "he said. "Paul is always looking for an opportunity to bring more films into town, he really loves Plymouth," he said.
Bruscato also visited the set of Cedar Rapids, enjoying dinner with the cast and crew, even unknowingly striking up a conversation with actor Mike O'Malley, while he rehearsed for his upcoming scene. Bruscato was also introduced to Producer Brian Bell, who he invited to lunch in downtown Plymouth the following day. "Over lunch we discussed what communities need to do to attract more films, it was very enjoyable,"he said. Cast and crew members from both Cedar Rapids and Trust were very complimentary about Plymouth and the way people in town welcomed them, he said.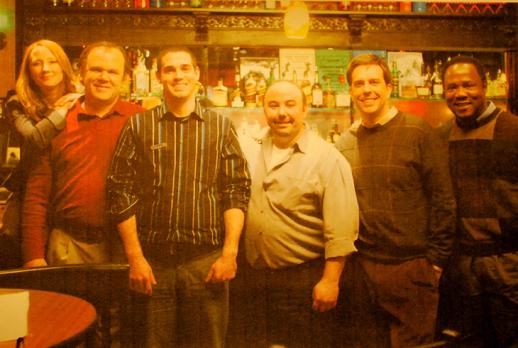 "Cedar Rapids movie stars, photographed with Plymouth Roc Bar owner Steve Stergiou, and manager Jordan West on location in Plymouth"
Copyright 2023 Hollywood Detroit. All Rights Reserved